Hotel Kaunas
Address:
Laisves al. 79, Kaunas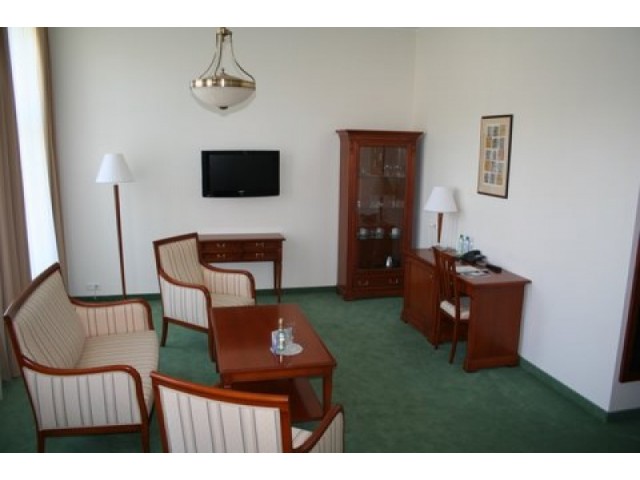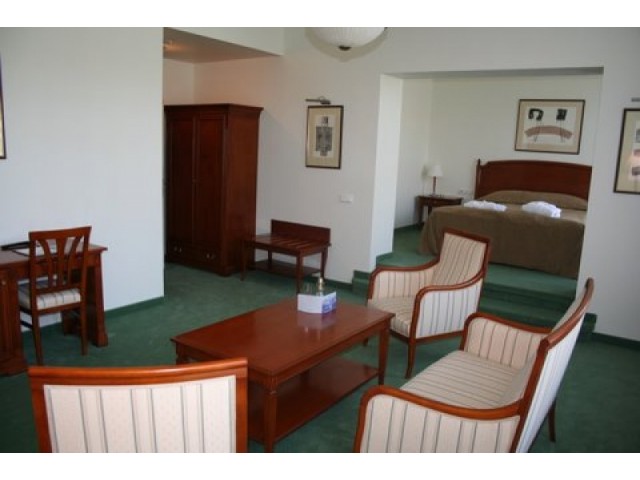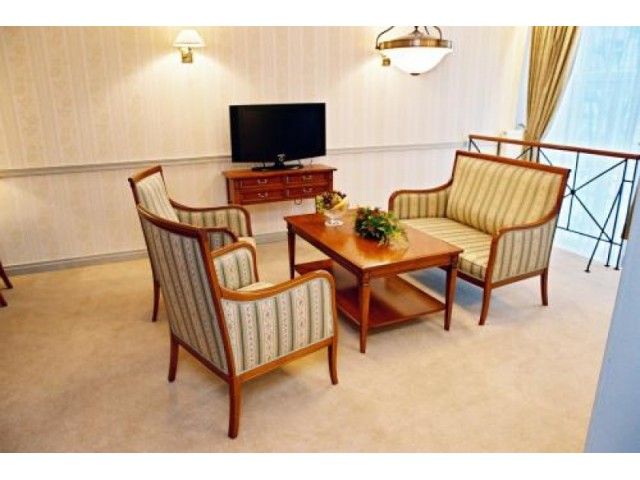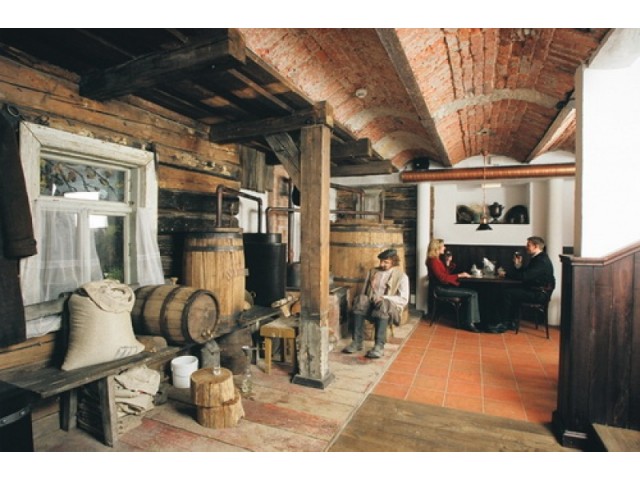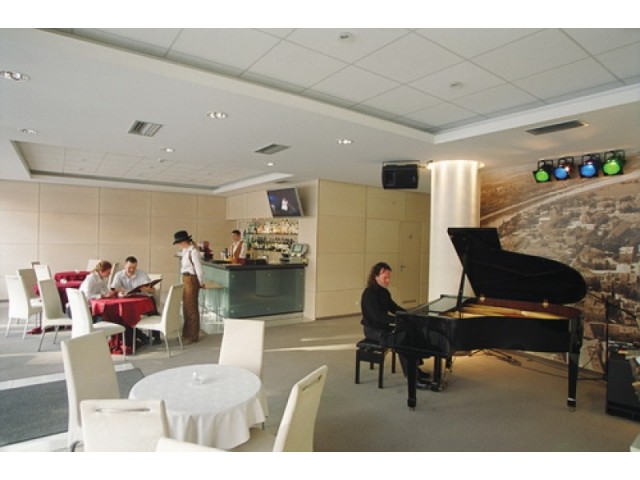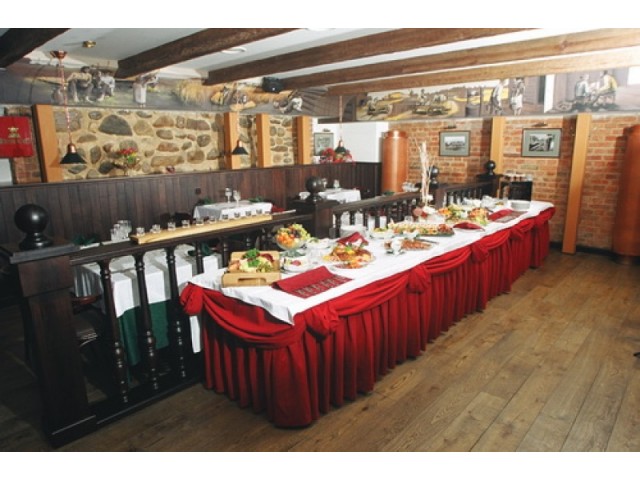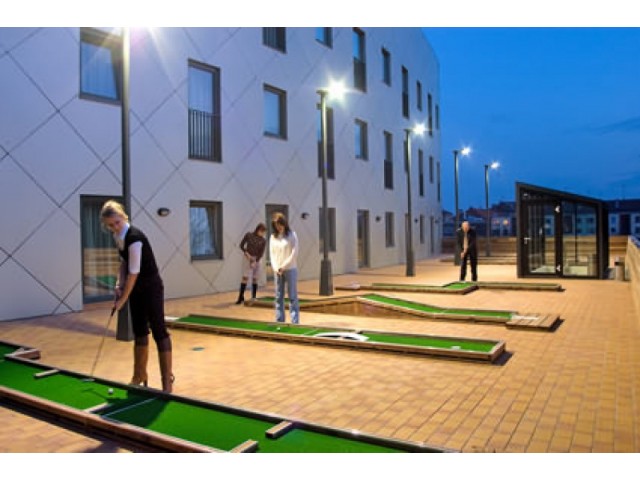 About Kaunas Hotel:
Modern Hotel has a convenient location and excellent staff. It is situated in the city's downtown - Laisves Avenue. Its location is ideal for those who come to Kaunas on business or for pleasure since its area is surrounded by cultural, commercial and financial objects and it takes just several minutes to reach the old town.
There is a great deal of details, which are invisible, however create the thing we call real comfort. We devote key attention to the safety of our guests. It is quiet and homey inside the hotel since the designers and constructors of the Hotel had to fulfil the requirement to decrease the permeability of noise to a minimum extent.
The staff members are thoroughly selected, they are regularly trained and encouraged to work well. We are eager to help you in any case and arrange activity that your stay here would be unforgettable.
We believe that the advertising for the Hotel - satisfied guests who'll come back or recommend the Hotel to other people.
Kaunas Hotel offers comfortable guest rooms, featuring bathroom with under-floor heating, shower and hair-dryer.
Each accommodation is also equipped with telephone and Internet lines, satellite TV with 20 channels, and mini bar. Most of the rooms have air conditioning and safe.
Disable-accessible and non-smoking rooms are available on request and subject to availability.
Accommodation Information
Rooms located on the top floors face Laisves Avenue, and are especially liked by guests. From here, a picturesque panorama of Laisves Avenue and the Žaliakalnis area opens out.
Available on request are an extra bed, iron with board, extra towels, blankets, pillows, cotton bathrobe and a video recorder.
Location Information
If you arrive by car from the direction of Vilnius, Klaipeda or Lazdijai:
As soon as you drive into the city pay attention to indicators, showing the direction to the city centre. While going along Karaliaus Mindaugo Avenue or K.Donelaitis Street, you'll see road-signs with reference to Hotel Kaunas. From the said streets you need to get to Maironio Street, which intersects Laisves Avenue, and that's the place where the Hotel Kaunas is located. The driveway to the Hotel is from Maironio Street.
Parking lot in front of the hotel free of charge.
If you arrive to the international Vilnius Airport:
It's most convenient and fastest to take a taxi. That would cost around 290 LTL.
If you arrive at Kaunas Airport, take micro-bus No.120, which takes you to the beginning of Laisves Avenue. Then, you should go around 400 meters by walk. However, it's most convenient to take a taxi. That would cost around 50 LTL.
Note: transportation prices are subject to changes.
Important Information
Earliest check-in 15:00
Latest check-out 12:00
Cancellation Policy
24 hours for free after that the first night.
Restaurant
WORKING HOURS
Breakfast in the restaurant "55°" (buffet):
Weekdays from 7:00 – 10:00 a.m.
Weekends from 8:00 – 11:00 a.m.
Working hours of the Restaurant "55°"
I-V 11:00 – 24:00
VI 12:00 – 24:00
VII 12:00 – 23:00
Working hours of the coffee-bar:
I-V 7:00 – 24:00
VI 10:00 – 24:00
VII 12:00 – 23:00
Meal service to the rooms 24 hours per day.
Catering for the groups, conferences, coffee breaks.
Sports and leisure
On the first floor of the Hotel Kaunas you will find a fitness room, a swimming-pool and a sauna. From early morning till late evening You are welcome here.
A modern spacious hall occupying a total area of 90 square meters contains the most modern "Technogym" equipment which is used world-wide and supply every major sporting event through out the world.
After releasing your tension you may wish to relax in the cosy sauna or go for a swim in our heated-water pool with Turbo stream and water massage equipment.
We kindly invite you to play a mini golf which is on the roof of the hotel.
/p
Reviews
Write a review
Your Name:
Your Review:
Note: HTML is not translated!
Rating:
Bad
Good
Enter the code in the box below: