Žalgiris Arena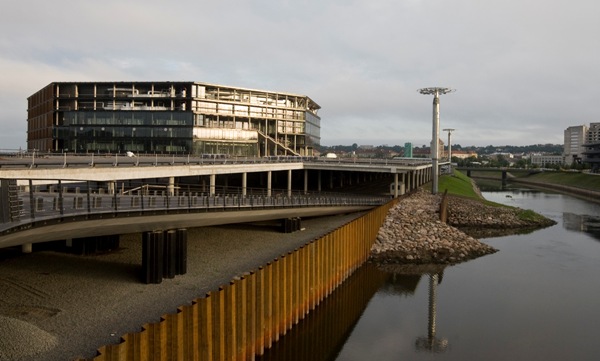 Kaunas Žalgiris Arena is one of the largest arenas and entertainment venues in the Baltic states, located in Kaunas, the second biggest city in Lithuania. A breathtaking opening of arena took place on 2011 18th of August. The arena is new, modern and innovative – definitely a worthy tourist attraction. World famous artists and bands have already chosen to hold their performances at Žalgiris Arena: James Blunt, Lenny Kravitz, Rammstein, the Hurts, Jean Michel Jarre, Mireille Mathieu among others. By far the most expected event to be held at the arena is the EuroBasket 2011championship.
• The largest arena in the Baltic states. This is the entertainment venue for wide range of events: basketball, handball, volleyball, football, bodybuilding, fitness, figure skating competitions and concerts, performances, film festivals, exhibitions and private events.
• The Home arena to Kaunas BC Žalgiris – the legendary basketball team competing in top-level European Championship.
• Quality. Exceptionally good acoustics and the most advanced technologies employed inside the arena provide a platform for top-level events.
• Range of services. Versatility and availability not only during events: offices, fitness center, arts and multimedia space, restaurant, café all provide services for their visitors.
• Easily Accessible. The arena is accessible via Airport in Kaunas, that sports a low-cost airline, it is also accessible via highway Vilnius-Kaunas-Klaipeda and highway Via Baltica. Furthermore it is located in a country-mediator between the European Union and Russia and is in a good geographical position to neighboring countries. Tourists can reach Kaunas also by bus and by train.
Zalgiris arena is suitable for various events.

Sporting events:

Basketball (14,500 spectators);
Ice hockey (12,300 seats);
Volleyball (13,600 seats);
Manual (13,800 seats);
Tennis and technical sports (13,700 seats);
Boxing matches (15,300 seats);
Football Hall (14,100 seats).

Cultural and entertainment events:

Concerts (11,200 seats for spectators, if the scene at the end of the arena, and 15,100 seats for spectators, if the scene in the middle);
Amphitheater for events (5500 or 2700 points, depending on options);
Circus (15,400 jobs).

There are several additional facilities:

exhibitions;
restaurants;
Lodge, where every day and will include meetings;
Caterers events;
office;
Fitness center and so on. service and trade businesses.